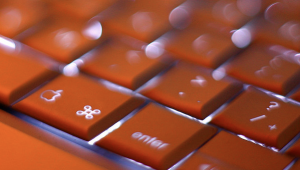 With my background in performance, one of the things I have noticed over the past year working in a call center is the insidious erasure of the body. On some level, all I am is a disembodied voice on the other end of a telephone line. Nothing about my working environment was designed with a living, breathing human body in mind. For starters, I sit for eight hours a day in a chair that wreaks havoc on my spine.
The high-pitched beep at the beginning of every call was giving me such bad earaches I put an earplug in the ear covered by the headset. I stare at a computer screen for eight hours daily, which promotes eye-strain and headaches. Typing and using my mouse so often have caused all my finger joints to ache and pop – especially my right index finger.
Compounding all of this, I get two fifteen minute breaks in addition to my lunch. At first, this seemed like a lot. Especially compared to my last call center job where I had one break plus 9 minutes "personal" time. At this job, I can choose to take less time on my scheduled break and save the rest as "personal" time. The total of break + personal just cannot exceed thirty minutes daily.
The problem is, if I miss one break I lose all that time and have fifteen minutes total that day. They've taken into account that I might be on a call at my break time, so if I am late for that reason it doesn't count against schedule adherence. But my breaks are also scheduled with call volume in mind, meaning that my second break is an hour after my lunch. I go to lunch late almost every day due to being on a call.  This means that second break often ends up being thirty to forty minutes after lunch.
And it is very easy to go from "my break is in fifteen minutes" to "my break was twenty minutes ago" when I have a long call and then another comes in immediately after. Then I have to choose between losing schedule adherence points or not being able to go to the bathroom or get more water for four hours, all while talking almost constantly.
I understand that personal responsibility is important. But in no other line of work was my time managed in this way. When I worked in food service our lunches and breaks were also timed based on customer volume. But I could at least go to the bathroom whenever I needed to and the manager would cover if no one else could.
It's hard not to feel like I'm being punished for focusing on my job. When I go into the flow state of researching for a customer on a call, I forget about the clock for a moment. The only way to be focused on what time it is every second, to make sure I am not late for break or lunch, is to be permanently distracted from what the customer is saying to me. There isn't enough room in my brain to both problem-solve and be aware of the time all day. Especially when it is busy and calls are populating one on top of the other on my screen. I'm always already multi-tasking and watching the clock is often one task too many.
Additionally, management want us to be available for calls all the time. If I notice my break is in twelve minutes when I get a call, it is possible I could I set the phone to put me in AUX (not available to take a call) after that caller hangs up. But what if that call only lasts two or three minutes? Then I am putting myself into AUX three to four times in a row. That adds up. Since going into AUX puts me at the end of the queue of representatives who will next get a call, I will also lower my call volume if I do that.  Call volume is an important metric that allows me to keep my job. One call can make a lot of difference for my weekly average.
I know of a representative who talked about stopping her blood pressure medication because it made her use the bathroom too often and she was worried about her call time. Another representative talked about a past job where she was trying to work a ten-hour shift with a carpal tunnel brace on her wrist. At my last job I was in a car accident where I was diagnosed with back sprain and it was all I could do to get through the day with a heating pad. But I couldn't afford to miss work because I needed the money.
Sometimes I get restless sitting all day and find myself tapping my feet under my desk. At my last job I was envious of the floor support who got to walk around the cubicles to assist us when we raised our hands. But here we add a new line to consult with a team lead over the telephone, so even they are chained to desks like me.
On top of all this, I cannot sneeze, cough, yawn, or clear my throat on a call without Quality Assurance taking off points or me having to apologize to the caller. I have to apologize for normal bodily functions or tripping over words because I'm trying to increase my call volume by decreasing individual call time. I haven't even mentioned how much talking for eight hours a day can hurt my throat by the end of the week.
All these measures are supposedly in place to serve the customer better. But I don't do my job better when I'm hungry or have to pee and my next break isn't for twenty minutes. By the time I walk to the restroom, use it, walk to the breakroom, refill my water bottle, sit for a minute in silence, and walk back to my desk I am usually barely under the fifteen minute mark. I hardly ever have "personal time" to spend during the day, and it is difficult to make my breaks on time.
I keep thinking that if I had time to get up and stretch, walk a lap around the building, or even time to use the bathroom when I please this job would be easier. It is dehumanizing and exhausting to be literally "on the clock" eight hours daily. I have a body even if my working conditions do not take it into account. I can see the havoc this job is wreaking on it.
What if employers valued the bodies of call center workers as much as their voices? What if there were yoga classes on site and ergonomic office chairs? What if that thirty minutes daily was all personal time I could use at will, and only my lunch was scheduled? What if we all did vocal warm-ups before the start of the workday? What if there was a way for me to not have to type and click so much throughout the day? What if I had a bluetooth telephone headset and could walk on a treadmill or use an elliptical while working? There are endless possibilities if employers would just take my very real body into account when designing the workplace. Because forty hours a week fifty weeks a year takes its toll.
Photo credit: Robert S. Donovan