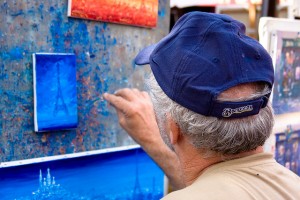 It used to be that you had to keep a mobile phone plugged in almost constantly or it would die in the middle of a call. Even today, if you forget to recharge it, it will shut down.
The point is that even the best batteries need to be recharged.
The vision for your business is like a mobile phone
Like a mobile phone, your business vision needs power. You, the creator of the vision, are like the battery. And you need to be recharged. Often. Regularly.
Your business needs a big vision
You might be tempted to scale down your vision so you can get away with a smaller battery or so that your battery runs longer between charges. I think that's a mistake.
You need a big vision precisely because it requires you to regularly plug in to a greater power source. The bigger your vision, the greater your reliance on that source. And the more you rely on Source, the stronger your battery gets.
A big vision doesn't need a big ego
If you're afraid to let your business vision be larger than yourself, I understand. It's daunting to imagine accomplishing something that is clearly beyond your limited power. It can feel like tempting fate to step in and take you down a peg.
But a big vision doesn't need a big ego. It needs courage and the humility to recognize your limits and accept inspiration, support, and encouragement from outside. A big ego deflects support. Courage and humility invite it.
A big vision doesn't have to be rigid
You may be tempted to back off from your business vision because you don't want to seem demanding. Who are you to set audacious goals and standards? What if the Universe has something else in mind?
Well, the Universe is going to get its way whatever you do. So long as you remember that, you can create as big a vision as you like, and you'll have the resilience to adapt to whatever reality brings.
And all the while you'll be plugging into a greater source of power. While you're connected, it's really not possible to go wrong.
Charging your battery is creative overhead
Overhead is everything that's necessary to run your business but that doesn't directly generate profit. Rent. Phone. Office supplies.
And then there's creative overhead.
Creative overhead is everything you need to charge your battery. It might be starting your day with meditation. Taking the time to exercise. Learning a new language.
You invest in creative overhead, not only because it makes you feel better in the moment, but because it charges your battery. It restores and renews you. You are a different—and better—body worker, writer, or car mechanic when you invest in creative overhead than when you don't.
It's all connected
Your business vision, the battery you are, and the Source which recharges you are all connected. The bigger your vision, the more you need to rely on Source. The more you rely on Source, the stronger your battery and the easier it is to power that big vision .
And paradoxically, more powerful your vision, the easier it is to adapt to and dance with whatever happens.
It's not this or that
Sometimes it may seem like you have to choose between creative overhead and taking care of business. But you don't. The creative and practical needs of your business can't be separated. They are mutually supportive.
When you invest in creative overhead, you see opportunities that might otherwise be invisible. You're open to new ideas. And everything you do from delivering your services to marketing them will naturally differentiate you from the crowd. Your business becomes a clearer and more powerful expression of your big vision.
That's worth plugging in for.
Image credit: EricMagnuson